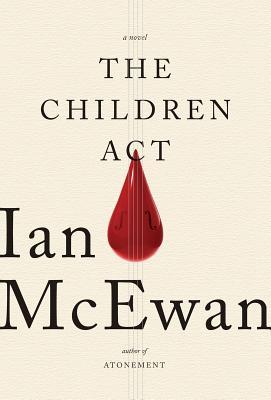 Ian McEwan is as always masterful and a delight to read. In this book, the protagonist Fiona Maye, is a senior Judge at the Family Court. Efficient and appreciated for her clear and legally sound judgements, Fiona also gives considerations to the sensitivities of culture and religion when handing down her verdicts. The cases require more rigor than mere pragmatism and while the outcomes seem simple from the outside, the course of action to ensure a child's welfare is not always so obvious.
Her clinical exterior hides the internal conflicts that follow these decisions. The theme running parallel to her professional success is the complexity of her marriage, and of issues related to the role of the partners in a marriage as it progresses beyond middle age. When her husband, Jack, asks her to consider an open marriage and, after an argument, moves out of their house, Fiona is left wondering whether it was love that she had lost or was she upset at the loss of respectability; and the imagined contempt and ostracism she imagined would follow.
The complex case, involving a seventeen-year-old boy whose parents will not permit a lifesaving blood transfusion because it conflicts with their beliefs as Jehovah's Witnesses, absorbs her. Her efforts to resolve the case leads to consequences for the young boy as well as her marriage. The day to day equations of a long standing marriage,and its excessive familiarity which is seen as a negative by the husband and which itself provides the reassurance that brings them together again, are lucidly brought out by McEwan. The characters are so normal and yer so complex, as are most of us, makes us relate to them and makes us eager to get to the ending. On the whole, a wonderful book, with human relationships at its core, the kind I seem to enjoy the most.

The other book I read in this period is "Of a certain age' by Gopalkrishna Gandhi. These are short sketches on 20 luminaries (as per the author's assessment) of the early post-independence years with whom the author had some association. And the author himself is no mean luminary!! A grandson of the Mahatma, he worked in the Indian Foreign Service and later served as Secretary to President. He also had a term as the Governor of West Bengal. But he is best appreciated for his extremely erudite essays, every one of which reflects his vast reading in the classical texts and modern writings. I used to enjoy his weekly columns from the Governor's House in Kolkota. With his stature, he usedshis columns to gently (for he cannot be anything but gentle!) censure the current political leadership and the country in general, on the wrong turns we seem to be taking. This book is extremely readable – each sketch is 3-4 pages – and gives personal insights which we could not otherwise known about.