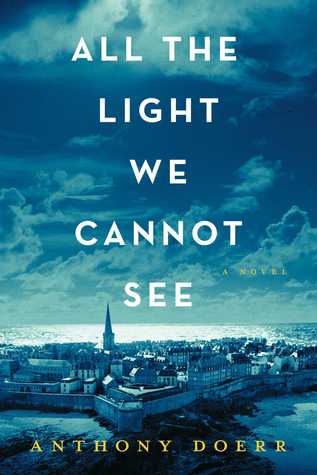 This was not a good week – as illness in the family involved traveling, care giving etc… However, the only book I did finish was really good – and so, reading wise it was a good week. This book came with recommendation, as it won the 2014 Pulitzer and has been much and favorably reviewed. But, I did not keep unrealistically high expectations and was pleasantly surprised.
A story set at the time of WWII, it does not deal with the larger canvas of the war. It recounts the lives of two young people on the two sides of the conflict, linked together in a really unlikely and interesting manner. As the story progresses, we learn of the progress of these two lives, along parallel paths that in the normal course of events we do not expect to meet. The young, blind French daughter of a master miniature wood carver, experiences the war as a victim of the travails of occupation by the enemy, living out daily existence in a small coastal town of France. The young, gentle German orphan with a natural talent for transistors and other things mechanical, survives the rigors of the Nazi training school and then the War itself on the Eastern Front. Eventually fate leads him to the coastal town and as readers, we are anxious to learn how the two lives cross. An absorbing tale, written with warmth and a simplicity of language which adds to the reading pleasure.
It reminded me in many ways of 'The Book Thief' – a young protagonist, similar period and a certain warmth to the story that is appealing. I really enjoyed this one and would recommend it for an easy, enjoyable read. Of course, if that kind of thing impresses you, this is also on the holiday reading list of Barack Obama this summer.