This has been the Booker week. I read of this person, who decided all 6 short listed books before the prize was announced and managed to do it. Well I made a start rather late – and have only managed two. And I ordered these with no specific plan in mind – but these are by the two American authors on the list.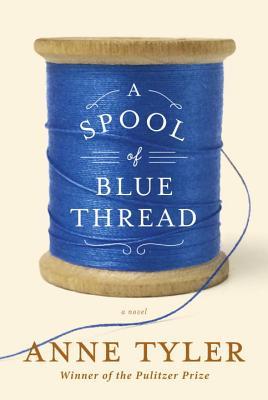 This one I chose because I had enjoyed the previous Anne Tyler's books  had read, especially the last one 'Ladder of years'. She writes about ordinary Americans leading every day, uneventful lives, much like yours and mine. Of course for each of us, the things that happen in our lives are 'events' – but to turn these into absorbing tales is a unique talent. The story is of four generations of the Whitshank family, starting with the great-grandfather who was self made builder and managed to buy the house that he coveted, in suburban Baltimore. His son, Red follows the father's profession and continues to live in Whitshank house with its broad verandah and netter windows and doors. Red and wife social worker wife Abby have 2 daughters and an adopted son who marry and move out into houses close by. Son Denny is the only odd one out,  moving out of the city, keeping in touch sporadically and never letting the family into his life. The trajectory of their ordinary lives is told with warmth and sympathy, the confusing relationship of each member for the absent Denny, the aging of Red and Abby and the gradual onset of forgetfulness, (is it demetia)  and then dealing with her unexpected death. It is not an absorbing page turner, but has a gentle pace to it that keeps you engaged.
The other Booker short list I read (on the Kindle) was "A little life' by Hanya Yanagihara. Set only a hundred or so miles from Baltimore, and spanning a similar time period, this book is as disimialr to Anne Tyler's book as is possible. It follows the life of 4 young men randomly assigned to share rooms during their college days, and follows them through the years of struggle in New York and then the years of their success in their chosen fields. There is the actor, the artist, the architect and finally the lawyer, Jude, who is the major character in the novel. His past is dark, secret and the others do not encroach into his space . But, as the years go by this past gets unraveled, and it is terrible, more horrible than imaginable. His struggles to quell his own ghosts forms a thread through the book.
The striking feature is the friendship, mutual respect and love between these four, spanning many decades – a theme infrequently dealt with these days in books. Yes, there is their interaction with others outside their circle, the architect marries and has children, the artist has a series of boyfriends and the actor of girlfriends, while Jude himself gets adopted when he is 30 years old by his mentor. But their binding loyalty to each other is a little unrealistic. And there is excessive harping on Jude's struggles and the extent to which those around him pamper to his quirks and fetish for secrecy is difficult to believe. In fact, a significant points that struck me was the overall, respect for personal space in that society, which is carried to the realm of improbability. Can you now someone for 30 years and not even know of his family, or his birth? But, in spite of it all, Jude's struggles do bring tears to your eyes, and the book just when you feel is dragging on manages to throw in some surprises and reaches a n ending that is tragic but acceptable. On the whole a good book.
I am also some ways through a third one "A brief history of seven killings' by the Jamaican writer Marlon James. BUt that is as far as I will get as the winner is to be announced on the 13th.